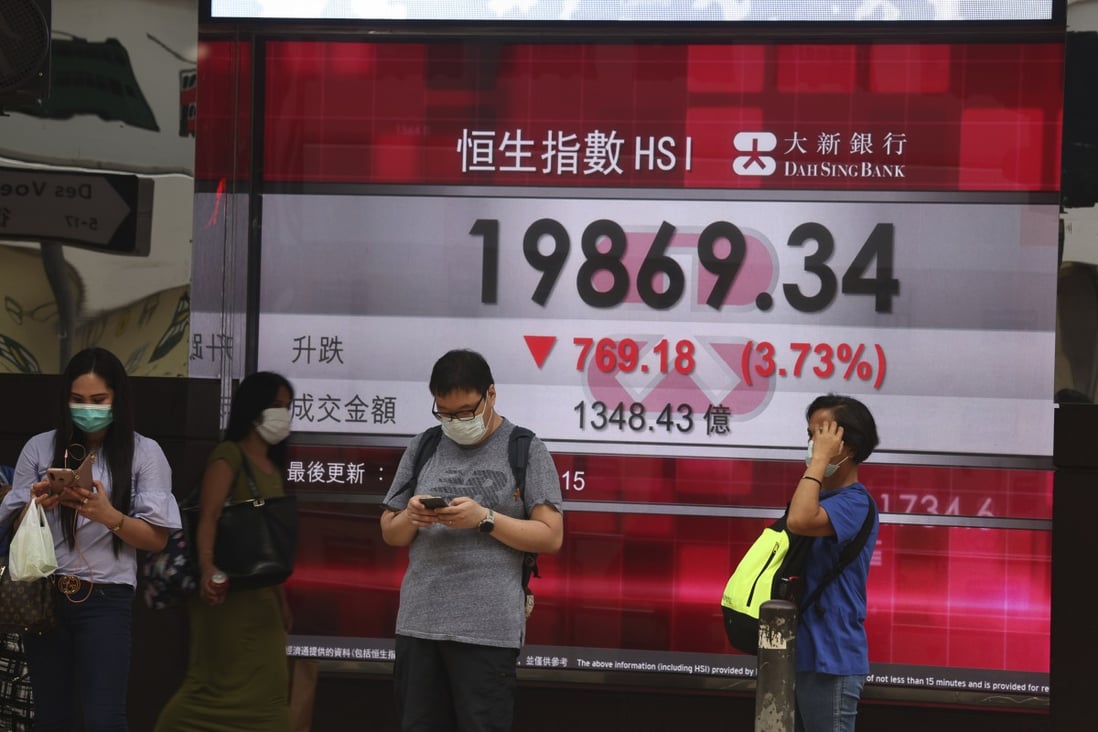 Hong Kong stocks slumped by the most in more than seven weeks as the threat of global inflation and speedy interest-rate increases prompted traders to dump riskier assets, with US equities suffering more than US$2 trillion rout overnight.
The Hang Seng Index slid 3.9 per cent to 19,989.22 as of 3.45pm local time at the local time, while the Tech Index tumbled 5.4 per cent. Both gauges fell by the most since the March 15 crash. The Shanghai Composite Index and Shenzhen Component Index both declined by more than 2 per cent amid dimming growth outlook.
Alibaba Group Holding, the owner of this newspaper, slumped by 6.9 per cent to HK$90.08. Meituan sank 5.1 per cent to HK$156.30, while Tencent retreated 4.5 per cent to HK$349.80 and JD.com plunged 6.2 per cent to HK$226.40. Country Garden lost 9.5 per cent, leading a broader 3.7 per cent slide in the Hang Seng Properties Index.
Today's slide extended the losses in the Hang Seng Index to 18 per cent this year, wiping out more than US$327 billion of market value. Another US$3 trillion has been erased from the Shanghai and Shenzhen bourses amid mounting economic toll from lockdowns under China's zero-Covid policy.
"This is a major bear market," said Clifford Bennett, chief economist at ACY Securities in Sydney. "The US economy is in diabolical shape, Europe is at war. And Shanghai, the world's biggest port, is in extended lockdown. This is truly catastrophic."
The S&P 500 Index sank 3.6 per cent to erase US$1.3 trillion of market value. It was only the fifth time the market has sold off more than 3.5 per cent since the depth of Covid-19 pandemic in March 2020, according to Bloomberg data. The Nasdaq Composite Index plunged 5 per cent.
China on Thursday reaffirmed its stance on zero-Covid policy, saying it will stand the test of time. President Xi Jinping has pledged to fight any attempt to "distort, question and challenge" its policies, even as reports this week showed a slide in Chinese manufacturing and services indicators amid Covid-19 lockdowns.
In Shanghai, anti-pandemic curbs remain intact as the commercial hub reported 4,269 new cases in the preceding 24 hours, officials said on Friday, delaying a resumption in production activity and clouding corporate earnings outlook.
This week's market rout reflects underlying jitters as stocks showed wild swings. Investors celebrated the Federal Reserve's most aggressive rate hike since 2000 when it lifted the fed funds rate by 50 basis points, only to head for the exit in the next 24 hours.
The Hong Kong Monetary Authority also raised its base rate by the same quantum to 1.25 per cent on Thursday, with policymakers cautioning consumers about the cost of borrowing. The local economy faces recession risks after contracting deeper than expected last quarter amid measures to curb the fifth wave of infections.
Global growth stocks face "earnings downgrades", Minsheng Securities said in a report on Friday. "Inflation may enter the second stage of acceleration and China's domestic inflation may be ignited at any time," it added.
Bestlink Technologies, an information and communication technology service provider based in Nanjing in the eastern Jiangsu province, surged 44 per cent in its market debut in Shenzhen.
Elsewhere, South Korean and Australian stock retreated 1.2 per cent and 2.4 per cent, respectively while Japanese equities gained 0.9 per cent.